* This event has now passed. However, from the success of this event we hope to another one soon with dates to be confirmed shortly*
Jio Consulting (part of liveoralive.com) together with Shuniya Yoga are presenting this unique opportunity to conquer your mind, be more productive and release work/life stress.
The evening consists of one and a half hours of relaxing discussion on real life issues each followed by short (3-5 minute) guided meditation techniques to completely change your outlook and refresh your mind.
What you will get from this course…
Real life situations will be discussed. The science behind why you feel the way you do in these situations will be explained. Then the science behind meditation in general is explained so you can understand what chemical reactions and balancing of the nervous system happens as you meditate. Specific short meditation techniques will then be introduced explaining how the hand mudra, eye focus, breath type etc. changes your hormonal balance, chemical release, mental state and therefore allowing you to achieve the desired outcome to a situation.
Topics that will be discussed include:
How can you feel less drained or tired at work and prevent burnout?
You're about to make a big presentation. How do you calm yourself? Dealing with anxiety and mind blank.
How can you confidently make important decisions?
Moving on from a negative encounter e.g. argument with a colleague or something going on at home. How to refocus your mind and keep it focused at work so you're still productive for the rest of the day?
How to have the confidence to network with the right people e.g. senior managers or junior staff.
There will also be an open forum session for other scenarios you want to discuss, time permitting.
Presenter background
Prabhmeet Singh ACA
Prabhmeet has extensive corporate markets experience. Excelling in his career in a Big 4 Consultancy firm and being the CEO of two businesses, he also is the author of LiveorAlive.com. An avid orator with recent presentations at Universities and The House of Commons, Prabhmeet is keen on developing an open and relaxed atmosphere for all his events.
Dr Japjeet Kaur Khalsa
A Belgium born, Belgium & US University Lecturer and top researcher in her field worldwide, Japjeet developed a keen specialism in Yoga, meditation and awareness over the last 10 years. Now a full time Yoga/meditation teacher in the UK and mainland Europe Japjeet holds regular weekend retreats on topics such as 'Stress management', 'Burn-out, Depression & Anxiety', 'Authentic Relationships', 'Discover Your Inner Potential. Revitalise Yourself. Heal Yourself' and 'Develop the Power to Succeed.'
Location
St Ethelburga's, 78 Bishopsgate, London EC2N 4AG
The Tent – The Tent has been designed as a safe space for dialogue, where people meet as equals and is located in a tranquil peace garden with a Lebanese fountain and an olive tree.
The location was key for an event like this and if you haven't already we would highly recommend you check out this amazing location in the heart of London.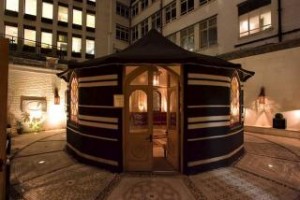 Tickets
Tickets are £20. Please book early to avoid disappointment and we very much look forward to meeting you and discussing in an open forum.